Tampon tax keep screwing us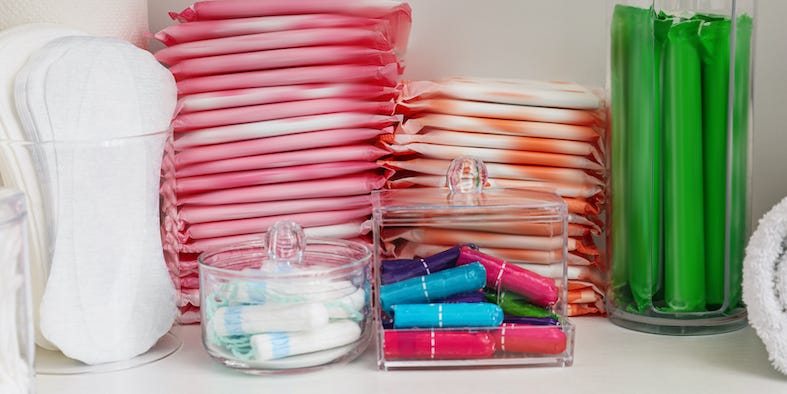 Olga Yastremska, New Africa, Africa Studio
Think back to 2014 and you might remember a plot noise in the media about the "tampon tax" – after it became common knowledge that hygienic products, such as pads and tampons, were subject to a tax because they were considered to be articles "non-essential" (and therefore subject to a 5% VAT charge). In contrast, things like Jaffa cakes, zoo tickets and lottery tickets have been classified as "essential" by the government…which is pretty wild.
Thankfully, thanks to dedicated campaigners (like Laura Coryton, who started a petition calling for an end to the mess, which garnered over 350,000 signatures), the government has announced plans to scrap the tax in 2020 – changes coming in fully effective in 2021.
It has been estimated that with a tax reduction of 7p per pack of 20 tampons and 5p per pack of 12 pads, the average consumer of menstrual products would save around £40 over their lifetime. Beyond the money, it was also much more about principle…as anyone who's ever had their period will tell you, the experience is definitely not the one you would call "luxury".
Now it has been revealed in a new report that retailers are taking nearly 80% of the tax cut benefits for themselves, leaving those who buy pads and tampons with them feeling little benefit – which stings especially given the crisis in the cost of living that we are all trying to get through. The Tax Policy Associates report added that "at most, tampon prices were reduced by approximately 1%, with the remaining 80% of the advantage retained by retailers."
Upon hearing the news, Laura Coryton immediately launched a new petition, urging retailers to do the right thing and lower the prices of their vintage products, to reflect the abolishment of the stamp tax (and therefore to benefit customers).
Talk to Cosmopolitan UK About her new campaign, Coryton said it's disappointing that such a celebratory moment hasn't delivered real benefits to menstruating people. "The eradication of the tampon tax was a landmark moment across the country, marking another step forward in what has been a multi-generational campaign to advance women's rights," she said. "To learn that these savings have not been passed on to consumers is like a step backwards – after all, 300,000 people didn't sign my petition to end the tampon tax to enrich retailers. !"
Coryton added that she has already reached out to various big dogs to push for the changes we were all promised to implement. "We will immediately enter into conversations with various stakeholders to ensure that this error in judgment is corrected and that vintage products are as affordable and accessible everywhere, which is especially important during the cost of living crisis."
The average woman is thought to spend £4,800 on menstrual products over her lifetime.
You can sign the petition urging retailers to reduce the cost of sanitary products here.