Providing caring networks | MIT News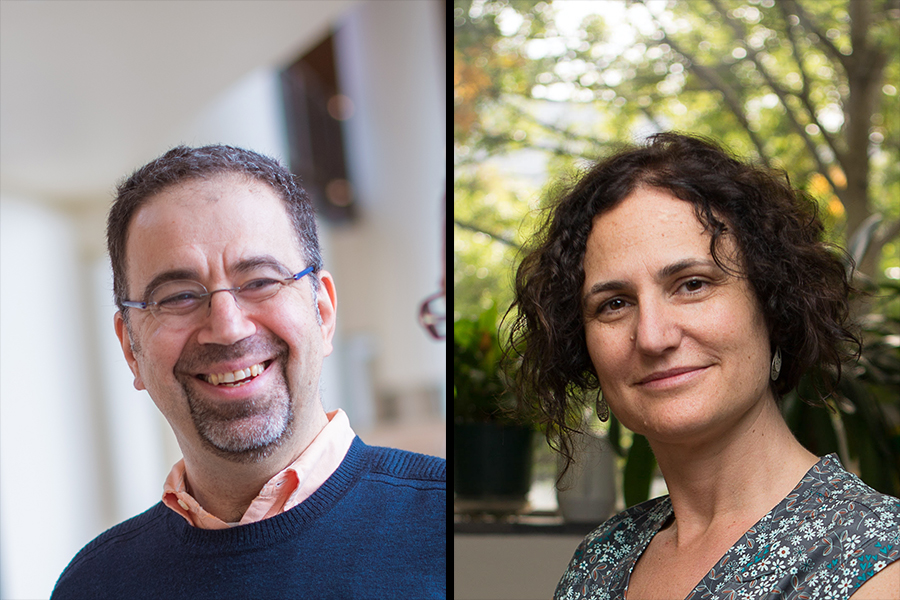 Undeterred by the pandemic, Professors Gigliola Staffilani and Daron Acemoglu persist in ensuring that their students have rewarding experiences in higher education. Both were honored as "Committed to Compassion" for their dedicated advocacy and for connecting students with broader intellectual communities.
Daron Acemoglu: Celebrating Potential
Daron Acemoglu is Professor of Economics at the MIT Institute. His research focuses on political economy, economic development and growth, human capital theory, growth theory, innovation, research theory, network economics and learning. Recently, he has focused on the political, economic and social causes of differences in economic development between societies; factors affecting the institutional and political evolution of nations; and how technology affects the growth and distribution of resources, and is itself determined by economic and social incentives. Acemoglu has received numerous awards, including the 2005 John Bates Clark Medal, which is awarded twice a year to the best economist under 40 in the United States.
Balanced judgment
All students can thrive and excel, according to Acemoglu. According to the student nominees, Acemoglu is "incredibly non-judgmental" and his assessment of students is "dynamic". That is, he demonstrates his confidence that "any student can do the best research" and that all can "contribute meaningfully to the field".
Cultivating sound judgment about your own work can be difficult. Acemoglu helps students learn to assess both the strengths and weaknesses of their research. Typically, he finds it translates to "pointing out to students that they accomplish more than they take credit for." For Acemoglu, precise assessment and learning to strengthen arguments are the key skills for being a researcher.
The presence of Acemoglu in the department is warm and caring. A nominee comments that Acemoglu "sits on the edge of his seat at every graduate student lunch, no matter who is the presenter or the stage of work, and devotes his mind to thinking.[ing] constructive advice that will improve it.
Access the connection
Students talk about the alienation that higher education can engender by celebrating Acemoglu's support. One proponent writes that Acemoglu's benevolence permeates the department and greatly improves the daily experience.
Acemoglu's compassion is vital for students in difficult circumstances. Another student commented: "Daron's unwavering support was probably the one thing that helped me stay focused on my job, my perspective in my life and my dignity.
Developing a strong network of social support, both professional and personal, is essential, according to Acemoglu. He encourages students and helps them bond with their classmates, describing these connections as "invaluable" during and after graduate school.
Highlighting its values ​​in interactions with students, Acemoglu makes it clear to them that integrity, public service and balance matter more than narrow definitions of professional success. In turn, Acemoglu students feel empowered and integrate kindness into the culture of the research group.
Gigliola Staffilani: Convening the communities
Staffilani is Abby Rockefeller Mauze professor of mathematics at MIT. She previously held positions at Princeton, Stanford and Brown Universities, and held the latter two. Staffilani is a mathematical analyst; his research focuses on dispersive nonlinear partial differential equations. A member of the American Academy of Arts and Sciences, Staffilani has received numerous awards, including a Guggenheim Fellowship and a Simmons Fellowship, as well as teaching and advisory awards from MIT and Stanford.
A benevolent balance
Reflecting on his growth as a mentor, Staffilani notes the distinction between being a "mentor / counselor / sponsor" and a "therapist / parent / friend". Making sure she fell into the first category was initially difficult. Through years of experience and reflection, she has become adept at striking that balance of compassion and support with clear boundaries.
A candidate who nominates recalls having self-doubts as well as unresolved friction with his first graduate advisor. The student approached Staffilani, who hired him as a mentee midway through his graduate studies. In a letter of appointment, the student describes Staffilani's "compassion and empathy" as well as the "countless times" she has reassured the student of her competence. Believing in Students and Their Abilities is a mentoring guide identified by the Committed to Caring (C2C) program.
Mental health is a priority for Staffilani. She notes that research in mathematics can be lonely and frustrating at times. As a result, Staffilani encourages her students to connect through reading groups and dinners, and she has secured funds to support these gatherings.
Encourage the diversity of routes
Many students fear that professors will think less of them if they choose not to continue their education. This is not the case for Staffilani's advisers. Staffilani explains that choosing to stay in academia in pure mathematics means choosing a very specific way of life, which requires "spending endless hours on a problem that is difficult to solve". She demonstrates that she values ​​multiple career paths, according to student nominees, and is dedicated to helping students achieve their dreams, wherever they are.
Indeed, Staffilani hosts monthly Women in Mathematics lunches where she brings in women who use mathematics in their careers, some from outside academia. Staffilani also chairs a department committee focused on community building and inclusion.
Staffilani emphasizes the emergence of mentoring as a priority during his time in academia. She describes her advisor as "ahead of her time" in recognizing the value of mentoring, helping her instill these role models in her.
Staffilani believes that a graduate student "deserves to be happy and not to be mentally stressed all the time". Additionally, it is important to cultivate the ability to mentor, as a graduate student "may be a counselor later in life and must understand how to recognize and nurture talent in unpredictable places."
Learn more about Committed to Caring
The Committed to Caring (C2C) program is an initiative of the Office of Higher Education and contributes to its mission to make higher education at MIT "empowering, exciting, holistic and transformative."
Since 2014, C2C has invited graduate students from across the MIT campus to nominate faculty they consider exceptional mentors. Selection criteria for the honor include the breadth and depth of the advisor's impact on the graduate student experience, scholarship excellence, and demonstrated commitment to diversity and inclusion.
The most recent growth in 2019 has taken the form of a Peer Mentoring Program (FPMP) in which C2C professors act as mentors for new professors at MIT. The program offers one-on-one matches with the goal of fostering strong mentoring practices and providing a network of support.
By recognizing the human element of higher education, C2C seeks to foster excellence in counseling and mentoring on the MIT campus.