Navi Mumbai: It's 'now or never' to save existing wetlands or flamingos won't return, activists warn | Navi Mumbai News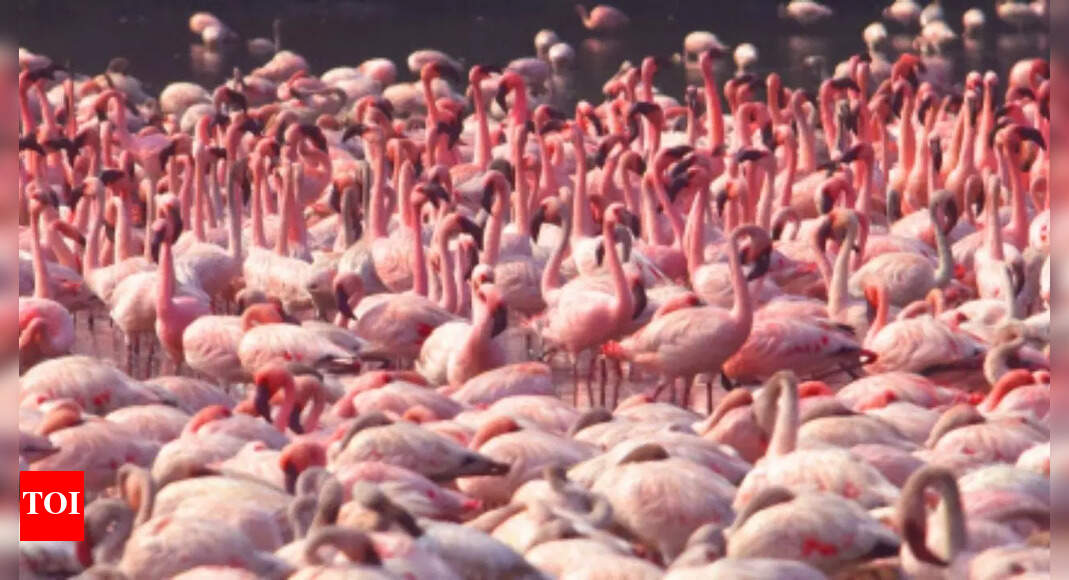 NAVI MUMBAI: Even as the Navi Mumbai Municipal Corporation (NMMC) began to display creative and colorful paintings and sculptures of flamingos on city walls and venues for the upcoming Swachhata competition, local environmentalists urged authorities that the very fact that wetland birds like flamingos and ducks are painted for beautification, it is high time the civic body and others also protect the existing wetlands in Seawoods, Kharghar and Uran.
Activists said they are also writing to collectors in Raigad and Thane to include these wetlands in the updated list that will be sent to the state's environment department by January 15 of this year.
Adding that it's 'Now or Never', the Greens said it was their last effort to protect surviving wetlands, otherwise birds like flamingos will cease to be seen there, and instead "Will only be considered as pictures on the walls and books".
Welcoming the State Wetland Authority's directive to district collectors to submit new updated lists of wetlands, city conservationists said "this is the last chance" to conserve water bodies at Navi Mumbai where rapid destruction is underway under the guise of development. The Wetland Authority, chaired by state Environment Minister Aaditya Thackeray, has sent instructions to all district collectors to submit their lists by January 15.
Activist Sunil Agarwal of Save Navi Mumbai Environment Group said: "We are already fighting legally to save the Seawoods-Nerul wetland of more than 35 hectares, which Cidco had planned to make a golf course and real estate buildings on. the site. If the state government fully declares them as protected wetlands, then the thousands of wetland birds will continue to be seen in our city. "
The growing enthusiastic crowds in these wetlands for bird watching are a clear indication that people love biodiversity. "It is now up to the authorities to act, protect and conserve nature," said Agarwal.
"Navi Mumbai, planned by Cidco, cuts into Thane and Raigad districts where several wetlands, river plains and CRZ areas have already been buried to make way for concrete infrastructure and jungles. risk their lives to make their voices heard and worry about the rapidly changing depleting wetlands, "said BN Kumar of the NatConnect Foundation. Wetlands act like sponges absorbing excess tidal water and floods, in addition to supporting biodiversity and aquatic life as well as serving as carbon sinks.
"The problem in Navi Mumbai is that the so-called planner Cidco seems to have forgotten about environmental protection and attributed the wetlands and mangroves to infrastructure or builders," said Nandakumar Pawar, head of Shri Ekvira Aai Pratishtan. "There are at least three wetlands – Belpada, Bhendkhal and Panje – in Uran and the NRI and TS Chanakya in Nerul that must be protected at all costs," Pawar added.
Welcoming the NMMC's message of love for flamingos with paintings across the city, Kumar called on the civic body to move beyond this "symbolic gesture" and save real birds and their destinations.
NMMC Commissioner Abhijit Bangar commented: "Personally, I am all for wetlands, mangroves and the environment in general. This is why the NMMC is also trying to save the Lotus Lake water body near the head office. sites under our jurisdiction. "
In Kharghar, activist Naresh Chandra Singh said, "we feel like orphans". "No authority worthy of the name looks into complaints about the destruction of wetlands and mangroves," he said, stressing that even the list prepared by the
tax authorities
was not being followed.