Fall / Winter 2021/22 Program – Announcements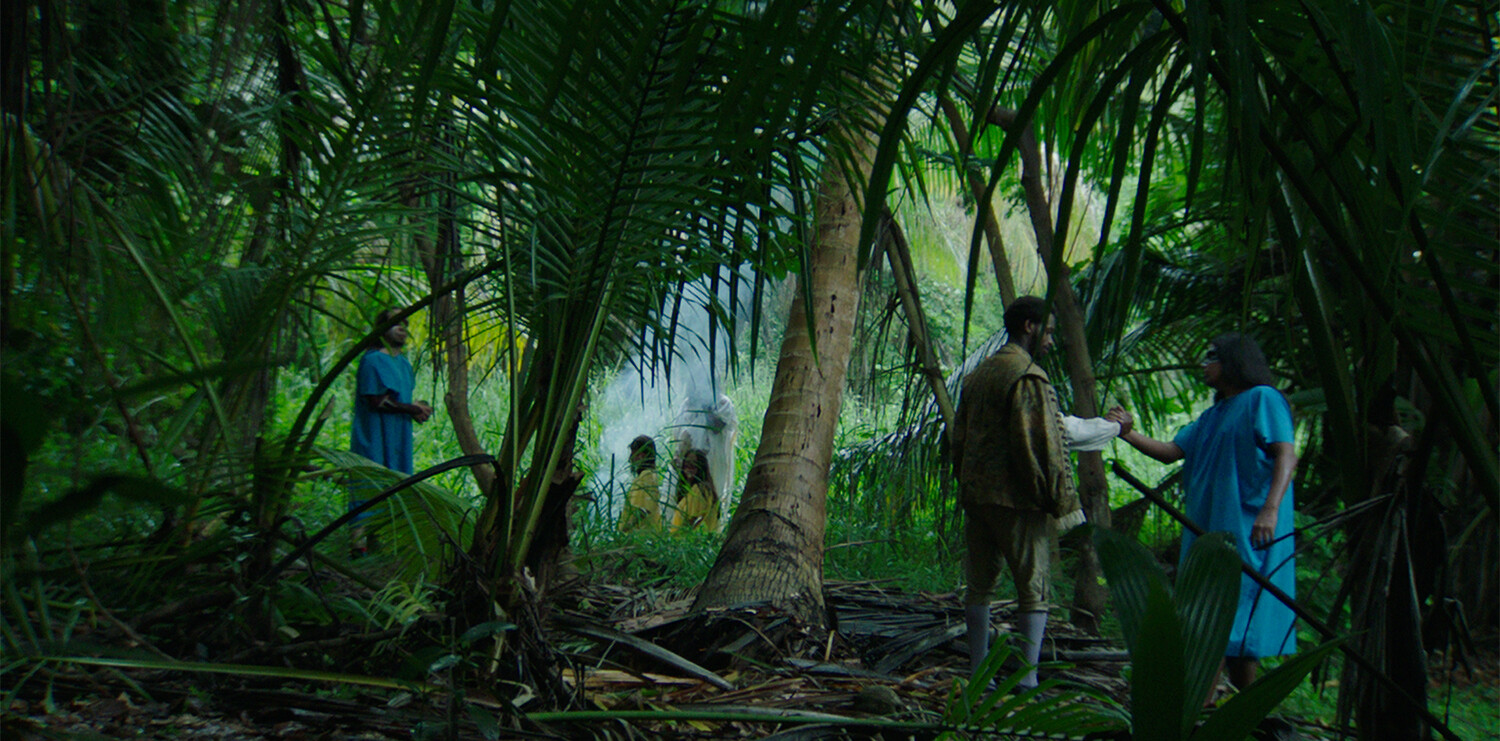 Exhibition program
Nosferasta: Adam Khalil and Bayley Sweitzer with Oba
From October 6 to December 19, 2021
The gas plant presents Nosferasta, the first UK solo exhibition of Brooklyn filmmakers Adam Khalil and Bayley Sweitzer. Nosferasta is a Rastafarian vampire film starring and co-written by artist and musician Oba.
Covering 500 years of colonial destruction, human trafficking and blood-sucking, this newly commissioned film reimagines Oba's origin story. At the end of the 15th century, Oba was shipped by freighter from West Africa to the Caribbean, where he was seduced by the vampire Christopher Columbus, ensuring his unwavering allegiance to the colonial project.
Combining cinematographic forms and genre tropes, Nosferasta examines the guilt of being complicit in Imperial conquest, while acknowledging the extreme difficulty of unlearning centuries of vampiric conditioning. Ultimately, the movie tackles an uncomfortable question: How can you decolonize yourself, if it's in your blood?
Adam khalil is a filmmaker from the Ojibway tribe of northern Michigan; Bayley Switzerland is a filmmaker from Southern Vermont. Their works have been presented at the Tate Modern; Walker Art Center; Whitney Biennial; Toronto Biennial; Sundance Film Festival; and Berwick Film & Media Arts Festival, among others. Khalil is a major contributor to the Indigenous collective New Red Order. Oba is a multidisciplinary artist and conductor born in Trinidad. Her work has been shown at the Motel Gallery and Rumpelstiltskin, Brooklyn. Oba was the lead singer of the avant-noise supergroup Dead Companionship alongside Zack and Adam Khalil.
Nosferasta is commissioned and produced by Gasworks, London and Spike Island, Bristol, as part of the European cooperation project 4Cs: From Conflict to Conviviality through Creativity and Culture, co-funded by Creative Europe and the Royal College of Art. The film is also supported by Creative Capital and Cineeach.
A public program including performances and screenings will accompany the exhibition – join our mailing list to receive updates.
Porras-Kim Gala
January 27 – March 27, 2022
Gasworks presents the first UK solo exhibition of Los Angeles-based artist Gala Porras-Kim. His work explores the institutional frameworks that define, legitimize and preserve cultural heritage, examining the global circulation of pre-colonial artefacts extracted from their original sites and stored in museum collections in the West.
Porras-Kim's work challenges the ethical principles of museum curation while inviting the viewer to attribute new meanings to artefacts on display within institutions. His exhibit at Gasworks examines the (after) life of sacred objects at the British Museum, reflecting on ways to compromise with their original otherworldly owners.
Wondering whether it is possible that the objects in the British Museum still fulfill their original function of spiritual offerings, Porras-Kim's exhibition unveils the many worlds that collide with these powerful artefacts, from international law to the stars, to cosmologies and forces greater than us.
Porras-Kim Gala is an artist born in Bogota and based in Los Angeles. His work has been presented at the São Paulo Biennale; Gwangju Biennale; Whitney Biennial; LACMA, Los Angeles; and Made in LA Biennale, Hammer Museum, Los Angeles. She has received awards including Creative Capital, the Joan Mitchell Foundation and the Louis Comfort Tiffany Foundation. She was recently a Harvard Radcliffe Fellow and is currently Getty Artist in Residence.
Porras-Kim's exhibition is commissioned and produced by Gasworks, with generous support from the Henry Moore Foundation and the Korean Cultural Center UK (KCCUK). The research for the exhibition was developed during a residency at the Delfina Foundation, supported by the Group of Patrons of Latin America and the Caribbean.
The Gasworks commissions are supported by Catherine Petitgas and the Gasworks Exhibitions Supporters.
International residency program
The Gasworks Residency Program offers studios to international artists for a fully funded three-month residency to develop new work and research on site. The next residents from October to December 2021 are Sarah rose (New Zealand) and Janina Wagner (Brazil).
International residents from January to March 2022: Moira ricci (Italy), Issay Rodriguez (Philippines) and Katy Numi Usher (Belize).
Participation program
Funding from City Bridge Trust enabled Gasworks Participation Artists in Residence Laima Layton and Lexy morvaridi continue to work in collaboration with local groups in the London boroughs of Southwark and Lambeth on their project, InnerSwell. The project explores memory and sound, social documentation and the creative process, inspired by deep listening, a "listening to learn" process.