Attorney General warns of senior citizen scams at conference in Grand Haven | Law enforcement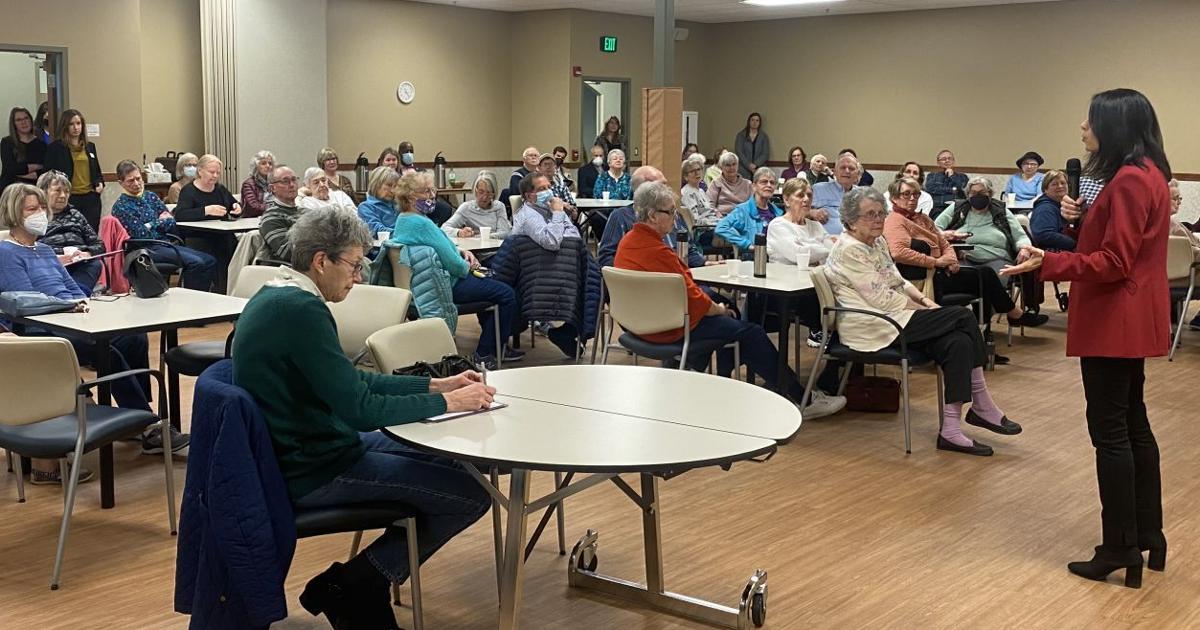 Michigan's attorney general told a group of Grand Haven seniors on Friday morning that they were the "most vulnerable" target of financial scams.
"Older people grew up in a time when this didn't happen before," said Dana Nessel, who prioritizes awareness and prevention of elder abuse. "They're just more confident than other generations."
About 75 people gathered at the Four Pointes Center for Successful Aging to listen to Nessel. She covered all the types of scams older people should watch out for: consumer scams, when companies set prices much higher than they should; the "grandparents scam", when scammers use real personal information found on social networks to pretend to be a relative of someone asking for money; home damage and renovation scams; utility impostor scams; and social security scams.
"They all have the same basic ingredients," Nessel said, noting that if the request is "urgent" — meaning you need to respond immediately — or if the person is just asking for money or a gift card , it is probably a scam.
Some are seasonal, Nessel said, and come in the form of tax scams or catfishing on a dating app close to Valentine's Day.
"Like any other population, older people are looking for love in the wrong places," the attorney general said, making the crowd laugh. She warned men and women that they should meet someone for the first time in a public place.
"If it sounds too good to be true, it is," Nessel said. "If you were like me, you grew up in a time when it was rude to assume someone was trying to take advantage of you – but, unfortunately, that's the day and age we live in. You have to protect and be careful."
Seniors are prime targets because they're supposed to have a Social Security check and retirement savings, Nessel said.
Grand Haven resident Ruth Crowell said someone once tried to scam her saying it was tied to her Medicare account.
"Just a phone call and they wanted to give me a new number or something," she said. "I believed them and gave them too much personal information. … We clarified everything and I got a new health insurance card.
Since taking office, Nessel has established the Elder Abuse Task Force. Some bills executed by the task force are still pending in the state legislature.
"It was one of my biggest priorities when I took over," Nessel said. "I'm really proud of the initiatives we've come up with and turned into legislation, but I'm frustrated that it's taken so long to pass… because every day we wait is another day people are taking advantage of. "
In his speech at the Grand Haven Center, Nessel told the elderly that "prisoners have more rights than wards under guardianship" and that his bills are intended to give wards more rights with regard to priority in custody. the choice of their guardian and the protection of property.
"The one thing we all have in common is this, God willing, we'll all be seniors one day," she said. "We all deserve to be treated with respect and dignity – no more, no less."
Nessel told the seniors they could call his office anytime with any questions related to the scam.
Criminal expungement fair
Following the discussion of the scam, Nessel visited the first expungement fair held at the Ottawa County Courthouse in Grand Haven.
The fair, hosted by the Ottawa County Public Defenders Office, was open to residents to meet with a lawyer and see what records, especially felony charges, they could have withdrawn. At least 10 attorneys from the Public Defenders Office as well as volunteer attorneys were available at the event on Friday.
"There are people who haven't committed a crime for many years and can't get a job, can't get a driver's license, they can't live in certain places they want to live, they can't get a student loan if they want to get an education," Nessel said. "It really prevents them from being able to support themselves and their families. their life feels like an unfair punishment, and we're really holding people back, especially right now when we have so many employers who need employees.